Sometimes clubs and bars just don't cut it.  It's tough to meet people with work and other obligations.  That's where a matchmaking service like Yahoo Personals comes into play.
We like it for many reasons – price, compatibility, features, and most importantly – their success rate.
Here is one example of love found on Yahoo Personals.
*****
Megan, 27: I had been in a relationship that ended out of nowhere, and it took a lot of soul searching and time before I wanted to date again. I was tired of trying to find people in bars and clubs where it's loud and people are out to impress. I decided to try online dating. In college my friends and I had joined Yahoo! Personals for fun, just to see what guys were out there and who would contact us. I never deleted my profile. So I went on and updated my profile and started talking to different people. There were so many responses a day, it was overwhelming. I couldn't decide who to talk to, but for some reason I picked Dave. He was looking to meet someone within 15 miles and I was 14.9 miles. Another tenth of a mile away and I wouldn't have met him! Thank God I did. I connected with him. Turns out I went to college one hour away from his college, and we knew some of the same people. He had that small-town charm. We worked about five minutes away from each other in Chicago, so we started going on lunch dates. After a month we had our first romantic date. He took me downtown to an Italian restaurant and to see the Blue Man Group.
Dave is a good guy. He comes from a huge family and has three sisters. He knows how to treat women. He was more into it right from the start. I was still hesitant because of past relationships. After four months he was talking about marriage, but I said I wanted to date for at least a year. I knew he was the one after six months, because he was the whole package. He is understanding and sympathetic. What I am lacking he makes up for. I worry about things. He looks on the bright side. I am frazzled. He is calm.
Last summer we were going to a Cubs game. Before the game he took me to Lincoln Park. We were sitting on the rocks by the water and he gave me a ring. Our wedding will take place in Sept. 2009. We're having lots of out-of-town guests and an East Coast Hamptons beach theme. I cannot wait to marry Dave, and I am so thankful to Yahoo! Personals for helping me find my true love. I never thought I would find him online!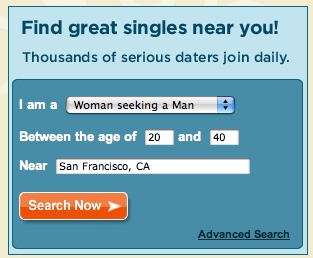 Dave, 28: I tried Match.com but didn't have any luck. When I joined Yahoo! Personals, I got a lot more responses. The singles seemed more serious. Megan was the first person to spark my interest. I really liked everything in her profile, and I obviously liked her photo. We were looking for the same things. I gave her my IM and we communicated through Messenger and email for about a month. I wanted to meet her right away but I was too nervous. Finally, I got up the nerve to ask her out to a "mock date" at a local bar. She was stunning! Her picture didn't do her justice. I was overwhelmed — not just by how she looked but by how real a person she was.
Our first official date was an Italian restaurant and the Blue Man Group. It was romantic and we had our first kiss. I knew that night she was the one. It was just a feeling. I had been engaged previously, so I knew what I wanted. It was all right there, with Megan. And she's beautiful — that puts the cherry on top. I knew I was in love with her. I held off at first because she told me about her previous relationships and not wanting to get hurt again. Within the first month, I told her I was all in, I loved her. She didn't respond, but that's OK. You're everything I'm looking for, take your time.
Megan is the best complement to me. We balance each other out. She reacts immediately, I don't react at all. I'm easygoing, she likes to get things taken care of. Having that balance in your life really helps. She met my entire family of 87 people at my grandmother's 80th birthday party. Then, a week later, on New Year's Eve, she told me she loved me. That was my New Year's present.
We got engaged in July '08. I had bought the ring three weeks before, but I was waiting for a good time to do it. I asked her Dad for permission, to go the old school route. He was very excited. So before a Cubs game I took Megan to Lincoln Park. We were along Lake Michigan, on the huge rocks overlooking the water. I got down on one knee and asked her. She was 100% surprised. She had a smile all over her face. She knew it would happen, she just didn't know when.
Online Dating Tips From Megan and Dave
Fill out all of your profile information completely.
It can be overwhelming at first when you get lots of responses. So be very detailed in your profile — your activities, what you like and don't like — to help narrow down your responses.
Look at all of your matches. Don't just look at the photos but read the profiles. Find 10 people who suit you and contact them.