Where it Began
Total Gym's roots began in rehabilitation centers where its main focus was aiding those recovering from physical injuries and obstacles. Total Gym was the perfect workout tool for several reasons:
* the smooth, gliding motion was easy on the joints,
* the various height levels accommodated every fitness level,
* the padded glideboard provided excellent support for the back,
* it was easy on the body because you use various percentages of your body weight as resistance, and
* there are so many exercises you can perform for every part of your body.
After years of success in the rehabilitation field, its weight loss and strength building benefits overwhelmed its users.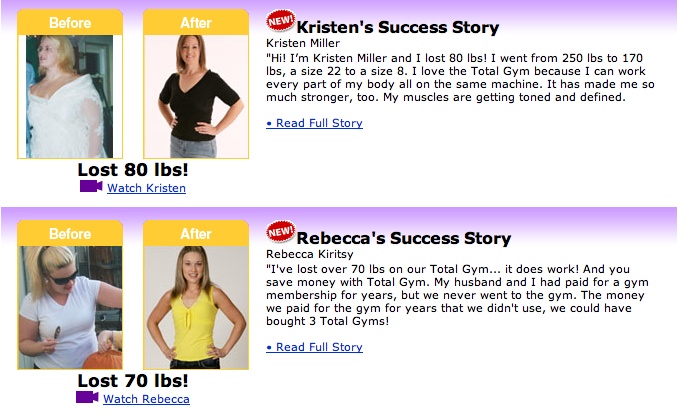 Chuck Norris and Christie Brinkley whole-heartedly
stand by Total Gym for the following reasons:
* Total Gym provides an entire gym full of equipment in ONE machine and best of all, it just takes 10-20 minutes a day to reshape your body into the body you've always wanted.
* The easy-to-follow exercise chart, training deck, and DVDs provide you with over 80 exercises to choose from so you never get bored… it's like having a personal trainer in your very own home!
* It works by using a % of your body weight as resistance. You set the resistance level – higher to build muscle, lower to tone and slenderize.
* The unique design allows you to easily move from one exercise to another without having to add or remove weights.
* Because Total Gym is safe and easy to use it's great for ages 8 to 80 and from beginner to advanced.
* No assembly required. It sets up in minutes out of the box and conveniently folds for storage under a bed or in a closet.
* Best of all, it works! And there are real people with real results to prove it!