Those on our email newsletter probably already know about The Ready Store and all the things that they can do to prepare your family during times of trouble. For those of you who are here but still not very familiar with The Ready Store, here's a quick summary.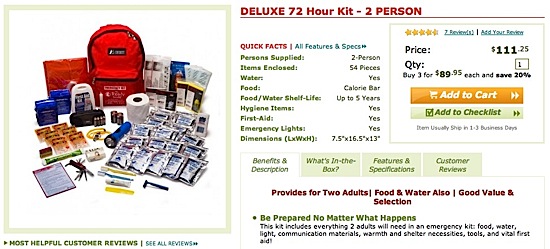 Essentially, The Ready Store's mission is to bring peace of mind to customers by helping them prepare for emergencies and disasters. The Ready Store has been in the preparedness business for almost ten years and their in-depth experience and selection of quality products will help you and your loved ones prepare for life's many and unexpected emergencies. Not surprisingly, their motto is, "Do what you can, but start today".

Often times, people put off getting prepared for many reasons, but mostly it is just because they feel overwhelmed and don't know where to start. We've seen time and again that after natural disasters such as hurricanes, earthquakes, powerful storms and other unexpected events where food is scarce and supplies tough to find.
One of the things we really like about The Ready Store is that they carry high quality food products. We're talking premium foods, not borderline gross space astronaut type foods but products you would actually enjoy to eat during times of distress. That's certainly one of the things, among others, that differentiates The Ready Store compared to others in the emergency preparedness business.

Things that The Ready Store services include:
– Specialization in offering emergency preparedness products that meet the needs of individuals, families, businesses, government agencies, schools and community groups.
– Offering a wide range of survival kits, food storage and emergency food & water and many other emergency preparedness essentials that meet your needs.
– Convenience of purchasing online

Browse The Ready Store website so you can get prepared today.