If you're a fantasy sports fanatic – whether it be Fantasy Football, Baseball, Basketball, Hockey, or even College Sports – then you need to consider testing out Fan Duel. I have heard of daily fantasy sports leagues here and there but I've never really thought about trying it out. One day, I thought to myself, hey why not? So I made a $100 deposit (and Fan Duel matched with a $60 bonus released over time) and I was ready to go.
Let's just say I was completely wowed! I had no idea how neat and exciting this concept could be. In fact, it was so amazing that I started neglecting my ESPN fantasy football league. It's really that fun. But don't just take my word for it, try it out for yourself.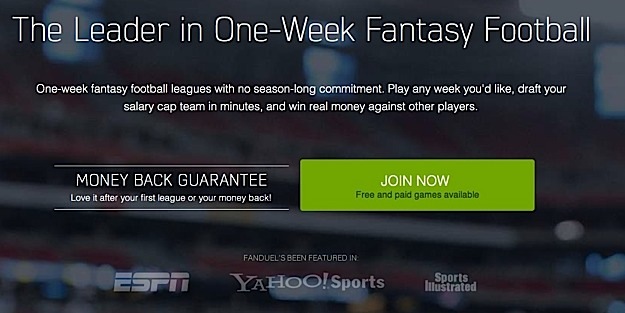 You can play "free" games or enter low budget tournaments for $1-$2 per entry. Or if you have money to spend, there are $10, $25, $50 entries that go all the way up to levels I can't nearly afford. Just to give you an idea, there is a $10 fantasy football entry league that pays out to the top 100 finalists with the top prize winning over $100,000. I'm sure it's difficult to do and you certainly need to know your fantasy sports, but if you're skilled at the game it might work out to be lucrative for you (if not, it will sure be lots of fun).
Visit Fan Duel to open a free account and make a deposit only if you want to play real money games. Remember, there are free games if you want to just test out the waters. Best of luck and have fun playing Fantasy sports every single day of the week!