Blue Apron is part of the wildly popular food delivery movement. Instead of having to worry about what to cook for dinner or where to stop by after work to pick up food, all the guess work is taken away when you become a member of Blue Apron. Fresh ingredients and great recipes are delivered to you weekly – all in one simple yet savory box. Carefully packaged in a refrigerated box, Blue Apron foods stay fresh even if you're not home during delivery.
What Do You Get From Blue Apron?
For starters, you get original recipes that taste pretty darn good. You get healthy, complete meals that range from 500-700 calories per serving. The average prep time is 35 minutes long so it's relatively quick and easy. Because foods from Blue Apron are made of fresh ingredients, they are much healthier than fast food alternatives. Blue Apron uses premium seasonal ingredients from artisanal purveyors with an emphasis on sustainable practices. Blue Apron claims their ingredients are fresher than the supermarket so you can rest easy knowing that the contents of the box are healthy for you.
Blue Apron plans are flexible – you can skip any week for any reason. Let's say you're extra busy or have to go out of town for a week or two. No problem. You can pause and/or cancel Blue Apron anytime. But if you like what you see (and taste), like many do, then simply pick the days you want Blue Apron to deliver and leave the rest up to them.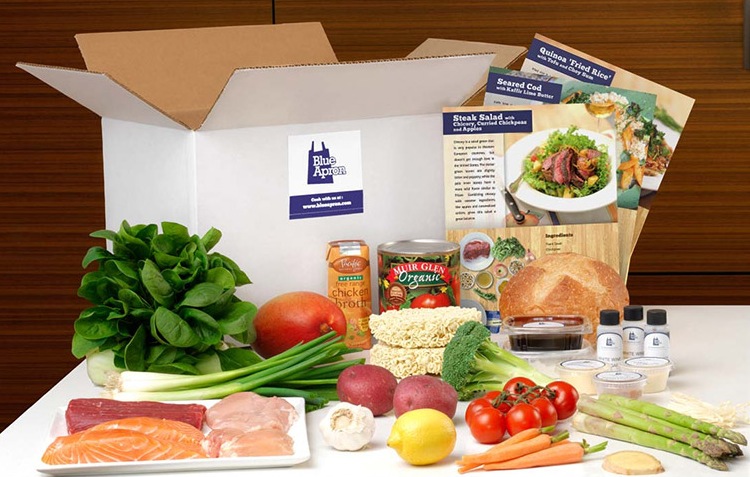 Pricing
Seasonally inspired meals for two are available for $59.99 per week. If you need more, family style meals for 4 people are offered at $139.99 per week.
There are many food delivery programs popping up but if you're looking to try one, we recommend you give Blue Apron a look.
Visit Blue Apron and learn more about their services. Since there is absolutely no commitment, you should give Blue Apron a try and experience what the rave is all about.