Andrew Christian is not just an iconic company, but is backed by a real designer… Andrew Christian, one of the hottest reality stars. Andrew Christian played "Andrew" on Bravo's The Fashion Show, and quickly set himself apart from the other designers with his movie star good looks and winning out of the box designs. Andrew was also featured on The Janice Dickinson Modeling Agency seasons 3 and 4 on the popular Oxygen reality show.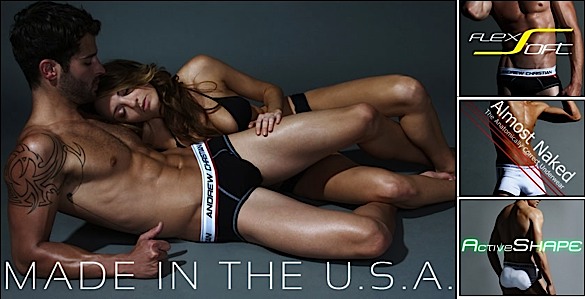 Andrew Christian has rapidly become a major player in the Men's underwear world with an impressive range of designs including metallic prints, sports inspired themes and rhinestone studded graphics in brief and squarecut profiles. Very comfortable and made of high quality material. The unique design provides all day comfort to men whether they are lounging around or exercising at the gym.
One of Andrew's best sellers is his amazing line of technically advanced custom woven men's underwear. The underwear comes in street, sport, fashion, and basics-themed lines and are available in a range of styles including low cut, super-low-cut, and boxer briefs. Each style is intricately designed using specialized dye treatments, printed graphics and innovative materials such as bamboo fiber, sports mesh, and patented moisture wicking cotton blends. Andrew is the first to introduce Anti-Muffin Top Elastic in his underwear designs, to reduce the appearance of love handles, and Flashback – Butt Lifting Technology. The Andrew Christian line continues to push the boundaries of underwear fashion by the release of "Almost Naked" the anatomically correct underwear for men and "Show-It" and "Shock Jock" both with front enhancing pouches.

Visit the Andrew Christian Shop to view the new innovative underwear line that is drawing much praise around the globe.